Inventions to make your life with your dog easier are necessary for every dog parent. Most dog owners consider their pet as their family member. And well there is nothing we wouldn't do for family.
Wanting the best for the ones you love deeply, means also spoiling them with gadgets they would enjoy or even help them have a better and more comfortable life. The online shopping now days is a great option.
There one can see the newest inventions and can be informed of the latest gadgets out in the market. Below we compiled a list with inventions that will spoil, keep your pup safe and healthy.
10 Inventions To Make Your Life With Your Dog Easier
#1 PetPeek Fence keeps the loud noise of your dogs bark inside the fence, without disturbing your neighbors at any given time of the day.
#2 Doggie Selfie Phone Attachment is perfect solution for stubborn dogs. They never stay still when you want them to, therefore every photo is blurry. This ball attached to the phone will trick your dog, making him keep his head steady. Long enough for you to capture a shot of him.
#3 Portable Chair With Pet Quarters sounds ideal during summer days when you can't stand yourself because of the heat, let alone your pet. Or, perhaps you want to go camping, just take him with you without fearing he will get lost or run away.
#4 Glow-In-the-Dark Leash is a led leash that allows you to see your dog moves when you take him for a late nights walk. Yes, apparently there is a solution for everything.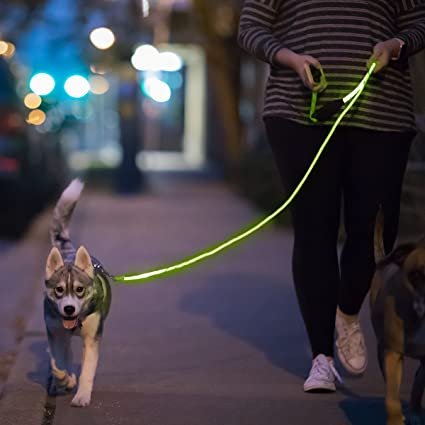 #5 The best way to feed your puppy is with special containers. Help your dog not to eat on the ground. Instead you can purchase this Pet High Chair for your four-legged friend, making him part of the dinning table along with the family.
#6 Talk about royalty…this invention named 'My Pet Umbrella' will keep your pet from getting wet during rainy days. All it will be possible without compromising his daily walks.
#7 Automatic Pet Dish will help your pet improve his eating habits. Keep him accountable of the quantity and frequency of the meals.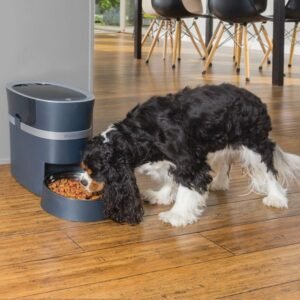 #8 Doggy Water Fountain works both, as a toy and at the same time keeps him hydrated whenever he feels thirsty.
#9 Dog Video Chat, is necessary for whomever feels like face-timing with their dog.
#10 Backseat Pet Safety Hammock are great to keep your dog from falling, while the car is on the move.