Moms are moms, and they are always happy, and proud for their puppies. They make sure to offer their babies a comfortable environment, food, and lots of love! These 10 pictures show proud mommies and their little beautiful puppies that will catch your breath.
Tell me sincerely don't you wish to have them all in your house right now, and get puppy overload?
Proud mommies 1- This little rebel did not hear his mommy telling the puppies to look left while posing. What a beautiful picture!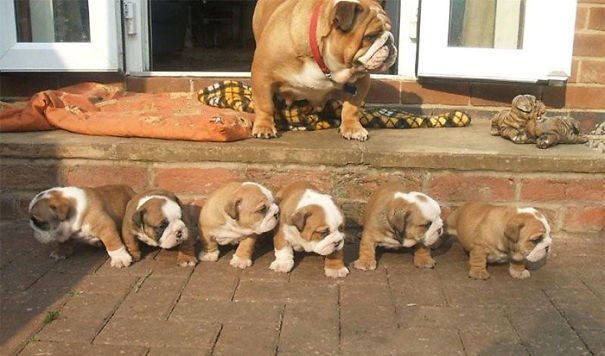 2- Feed the puppies – Done!
Put the puppies to sleep – Done!
Chilling hour mode on!
3- Come on puppies it's nap time! Line up babies in 1, 2, 3. Sleep tight!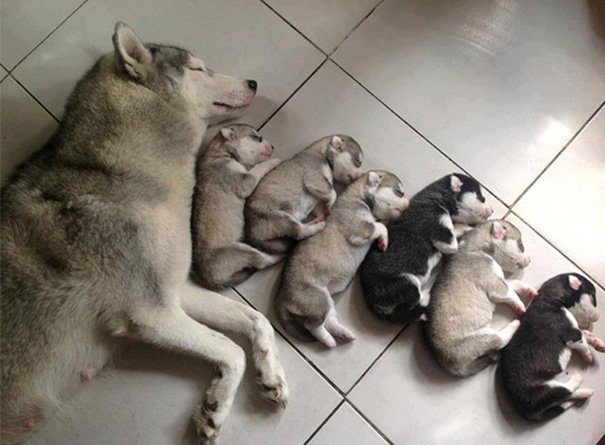 4- Looks like the biggest Pit-Bull in the world Hulk, is very proud of his beautiful puppies. They are the apple of his eyes, and he will protect them from everything!
5- "Very well puppies, going pretty good so far. You have to eat all your food, if you want to play with each-other latter."
6- "As I told you ma'am, these three precious creatures, are my children. They are the sweetest, the loveliest, and the best children ever. I love them with all my heart!"
7- "As soon as I lay dow, they all run towards me, and start drinking milk. All they do during the day is drink, and sleep. Pretty busy schedule right?"
8- "So thirsty that only drinking is import and. How you do it doesn't matter. They are just so adorable right?"
9- "Come on babies, we will go for a walk now. I want you all to behave, and stay close to one another. Walk calmly, and slowly puppies OK?"
10- This is such a beautiful family it warms my heart. These parents could not be more proud, or happy with their well educated babies!
11- White puppy army is the cutest family you will see today. They are so fluffy I wanna have them all!!
Source: BoredPanda