Inter Miami's co-owner David Beckham has revealed why Lionel Messi may not play in his scheduled debut against Cruz Azul
David Beckham has admitted that Lionel Messi's Inter Miami debut might not necessarily take place against Cruz Azul. The 48-year-old's comments come following the Argentine's elaborate unveiling at the DRV PNK Stadium.
Messi is due to make his first appearance for the MLS club on Friday, July 21. Inter Miami faces Mexican team Cruz Azul at home for the League's Cup opener and co-owner Jorge Mas has long had the game down to be Messi's first appearance.
It would also be Messi's first club game since his departure from Paris Saint-Germain, where both sides agreed not to extend the World Cup winner's contract. However, speaking to ESPN Argentina, Beckham was quick to lower expectations by insisting the club will not rush him back into action if he is not ready.
"We don't know if Leo is going to play the game or if he will have minutes because I think that, after all, he needs to be ready," Beckham said.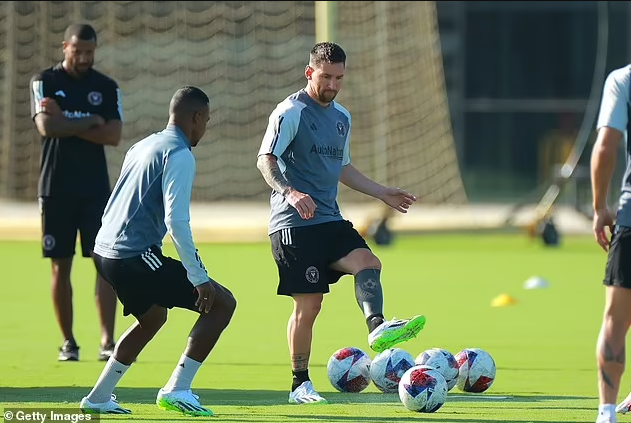 "We have to protect him and make sure that he is ready, because he has been on vacation and has just arrived in Miami. He has trained and he looks good.
"I think Lio and Tata [Martino] will decide when and if he plays on Friday. But the atmosphere here will be amazing and hopefully we can get the win."
This isn't the first time that an executive at Inter Miami has hinted that Messi's debut could be pushed back. Speaking before his arrival in the States, the MLS club's sporting director Chris Henderson said: "With regard to Leo, the terms are agreed.
"But we are working on the paperwork with Major League Soccer so those are going to take time to finish," Henderson said. "But we hope that there is a time in mid-late July that he's ready to go, but that's just going to be up to how he finishes all the paperwork.""
Now the deal is all finalised, Messi was expected to take on Cruz Azul but the final decision will now lie with manager Gerardo Martino. If Messi does not play against Cruz Azul, their next game is at home to Atlanta United on July 25.
While fans will no doubt be disappointed to hear that Messi's debut could be delayed, there is plenty to get excited about in the coming days. According to TyC Sports, the 36-year-old's former Barcelona teammate Luis Suarez has been negotiating with securing a move Inter Miami.
The transfer would see the duo back in action for the first time since 2020. The club are also heavily linked with a move for former Barcelona left-back Jordi Alba who would join another Barcelona alumni in Sergio Busquets, who signed shortly after Messi's arrival.