A delivery driver saved a drowning dog making us so happy with the result. Man's close relationship with animals has enabled strong bonds between us. The fact is that we have grown up hearing extraordinary stories about how canines have saved our lives over the years. However, the tables turn and our moment comes to do the same.
Today's story brings to our attention the heroic action performed by an animal lover. John Cassabria the owner of four dogs, four cats and even a snake. Delivering packages one afternoon in Woburn, Massachusetts he heard a strange sound. Considering the fact that that noise was not normal, he started looking for where the sound was coming from.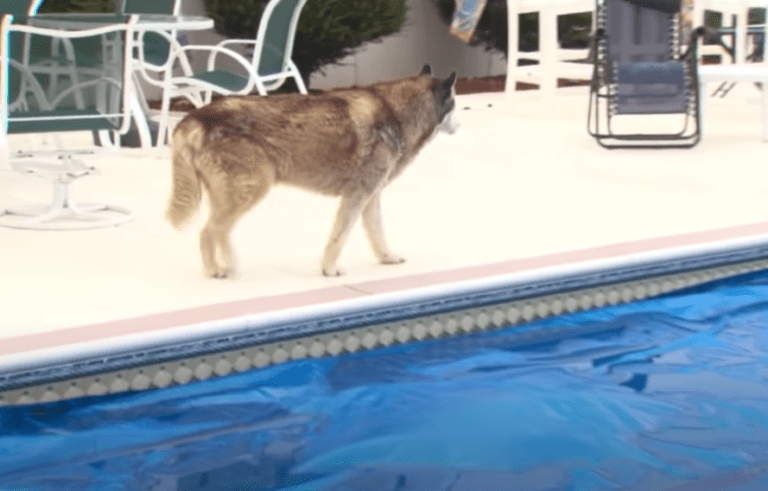 "It was something like a siren raid mixed with howling — like how the wind howls through the tree branches." Cassabria said.
John could not believe his eyes when he saw a husky drowning in the pool. Guided by his instinct he ran towards the dog, immediately jumping into the pool to save him.
The unfortunate was a 14-year-old husky named Luca who dived into the pool because his playing bone fell off. The elderly dog who also has issues with his legs had been in the water for quite some time and was now struggling to stay afloat. As a result of his aggravated condition swimming was not an option.
Delivery driver saved a drowning dog
The universe took care of this fury dog, bringing in its savior. John no doubt did so with great pleasure and love. Anyway I want to thank him for the action taken because in such situations we have a lot to learn. Thank you John.
After exiting the pool Luca refused to leave his savior. He wanted to be by his side in order to feel safer. According to Woof Woof "It turned out that Lukas' Mom Julie, had just left for vacation and had scheduled a dog sitter to come and look after the elderly pooch, however, he had gotten himself into trouble before they could arrive."
"He didn't want me to leave his side. Every time I would go to get up, he would hit me with his paw or nudge me — so I stayed with him the entire time."