Lionel Messi is finally starting to look at home in the Paris Saint-Germain blue.
The Argentinean superstar endured a torrid season by his usual meteoric standards after swapping Barcelona for Paris but, thankfully, he looks a man possessed in the new campaign.
Alongside the likes of Neymar and Kylian Mbappe, Messi has been absolutely tearing it up to send an ominous warning for the rest of Europe.
With PSG desperate to finally break their painful European duck, Messi operating at his highest level could prove to be the difference maker in the latter stages of the Champions League.
Lionel Messi back to his best
For the neutral, however, it is just an utter joy to see the great man enjoying his football and once again putting in the sort of performances that made him one of the greatest to ever kick a ball about.
In ten games thus far, Messi has five goals and eight assists to his name but even those impressive numbers simply don't tell the whole story.
Lionel Messi takes his passing game to the next level
That is because Messi's true impact has been found in some of PSG's ridiculous build-up play as they continue to tear opposition defences to shreds with their movement and vision.
Of course, Messi's eye for the pass has been well documented over the course of his career but, as he adapts his style of play and with Neymar and Mbappe running beyond, he has simply taken it to the next level.
His assist for close friend Neymar against Brest was but one example in an ocean of world-class passing play for the Argentina skipper.
However, if you need further proof of just how unbelievable Messi's passing game has been this season, then we have the perfect video for you.
The footage, which has been pulling in massive numbers of views and retweets on Twitter, compiles Messi's best passes across the course of the ten games he has played so far.
You'd be mistaken for thinking that the video was made up of a career's worth pf passes, not just ten games.
Of course, without the one-of-a-kind movement of Neymar and Mbappe there may be no video at all, but the fact that Messi still manages to pick out some of their runs borders on the alien.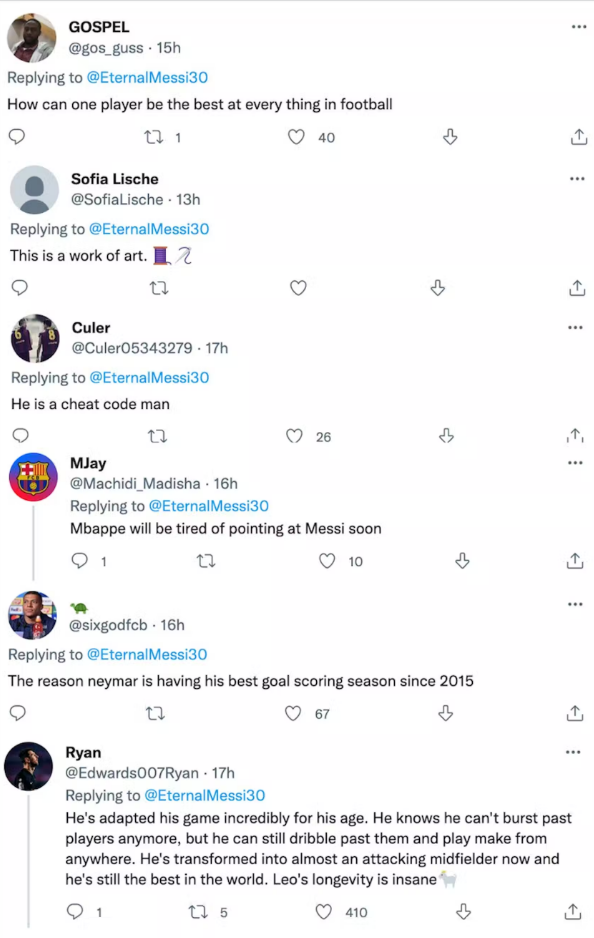 They will need every single ounce of that Messi magic dust if they are to rid themselves of that continental hoodoo that has plagued them for so long.
Source: onefootball.com