For those of you who don't know already, Miley Cyrus is very much in love with animals. She has a lot of dogs, cats, and a baby Pig as pets for her own enjoyment. She loves these animals and treats them as if they were her actual kids. If you follow her in social media, then you probably know all her babies one by one. A couple of days ago, Miley added a new member to her family. She's a lady Pit-bull, and she named her Milkey. It is really sweet to know why is Miley posting so many pictures of her new family member.
If you don't know yet, looks like Miley is trying to promote #PeaceForPits And #AdoptDontShop. She wants to increase awareness of the adoption of the pets. There are tons of shelters filled with animals, and people should try to help the poor creatures by providing them a forever family.
I would applause her for giving such a great example to all her fans and followers throughout the World. #PeaceForPits And #AdoptDontShop because there are lots of animals trying to get out of their cages. These animals deserve a better life, and a family who loves them.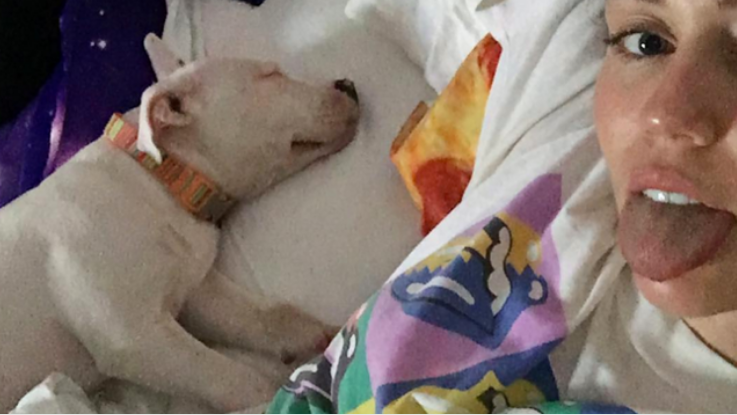 Miley used the hashtag #PeaceForPits And #AdoptDontShop also because people perceive Pit-bull as dangerous dogs. She is trying to show everyone that they can be just as sweet, and lovely as every other dog. You should adopt one, and see how that goes. I bet you will not be disappointed.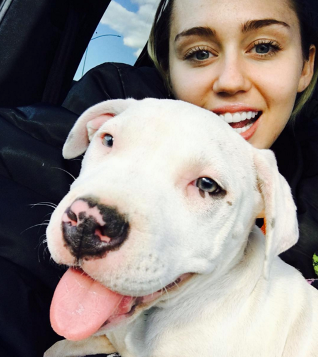 Here is a glance of Miley's family. Some are missing in this picture, but take a look at that you guys. It is just adorable to see how humble, and sweet Miley is at heart. She has such a beautiful family, and I bet she has a happy life inside that house with these adorable animals! Please don't forget to promote #PeaceForPits And #AdoptDontShop 
Source: RantPets