A journalist was in tears as he confessed his "dream" of interviewing Lionel Messi had come true.
Argentine TV personality Pablo Giralt, 48, was given the chance to speak to one of the greatest footballers of all time for Latin American publication DirecTV Sports this week – and he took the opportunity with both hands.
During the chat with Messi, who spoke about Argentina's chances at the World Cup, an emotional Giralt broke down in tears when joined the former Barcelona forward on the sofa.
He said: "I've dreamed of doing this all my life, but I never thought I would be lucky enough to be able to accompany you with my story, with my love. I thank you with all my heart."
As you can see in the footage above, Messi was clearly taken aback by the comments. He leaned back on the sofa and smiled before eventually comforting Giralt by touching his hand.
After a few seconds, Messi responded: "Thank you very much. I am excited to be able to reach people like this. There are many people in Argentina or in the world in general who always support me, admire me, from football and from what I am as a person.
"I am grateful for the affection I'm receiving."
The footage has since gone viral online, with fans commenting on Messi's 'humble' reaction to the outpouring of emotion.
One said: "Messi thinks he is just a guy that plays football, to us he is more. My GOAT," while another commented: "I'd tear up to if I was in the presence of the best player to ever play the game."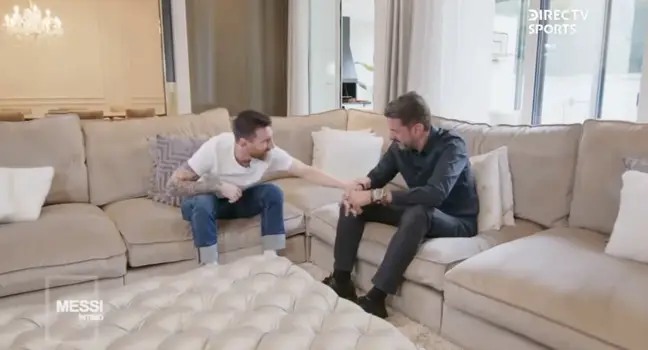 A third wrote: "The way he was laughing and surprised at him crying is actually funny."
Messi went on to speak about the upcoming World Cup in Qatar and to the surprise of some, he tipped Brazil and France to win the competition this winter.
"We always say the same great teams but, if I have to choose, Brazil and France are the two great candidates to win the World Cup," he told DIRECTV Sports.
"They've had the same group (of players) for a long time, working well. France, aside from the last Euros when they were eliminated (in the last 16) and did badly, they have some impressive players.
"They have a clear idea and the same coach (Didier Deschamps). Brazil is a bit the same (under Tite).
The seven-time Ballon d'Or winner also said he was worried by the recent injuries to Argentina pair Angel Di Maria and Paulo Dybala.
"It's a concern because it's a different World Cup, you play at a different time and we're so close that any little thing that can happen to you can leave you out," he added.
"I hope they both recover, they have plenty of time to get well for the World Cup. Hopefully, we can all get there in good health."
Source: sportbible.com