Lionel Messi is fully immersing himself into American culture and adjusting to life in Miami by grocery shopping at US supermarket chain Publix on just his second day in South Florida.
The seven-time Ballon d'Or winner was spotted pushing a cart at the grocery store's checkout with different types of cereal including General Mills' Lucky Charms and Kellogg's' Fruit Loops on Thursday, as fans are eager for Inter Miami to confirm his signing by this upcoming weekend, at the earliest.
Messi, who is set to earn $54million per year, landed in Miami on Tuesday with his wife, Antonela, and their three sons, Thiago, 10, Mateo, 7, and Ciro, 5.
The Argentine, whose height is listed at five-ft-seven, even had time to pose with some of his US fans based in the Sunshine State, as he was headed towards the grocery store's exit.
Earlier this week, Messi was spotted at a family meal in Miami Beach on his first day in the US on Wednesday and was even kissed by a fan on his way out of the eatery!
Lionel Messi, his wife Antonela and his three children went shopping at Publix in Palm Beach
Messi, 36, was spotted at checkout at US supermarket chain Publix in Miami, Thursday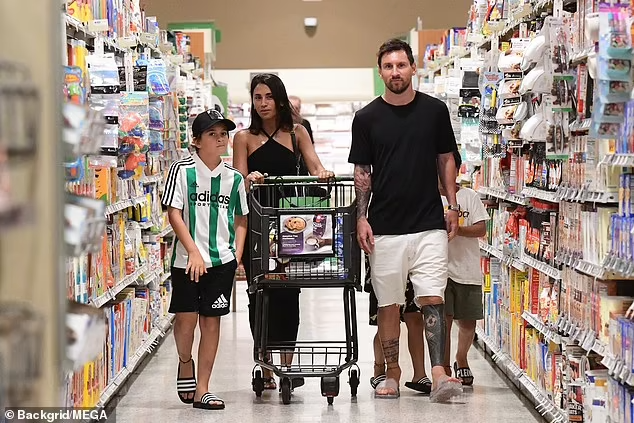 Messi looked like any other shopper walking down the aisles of the supermarket with family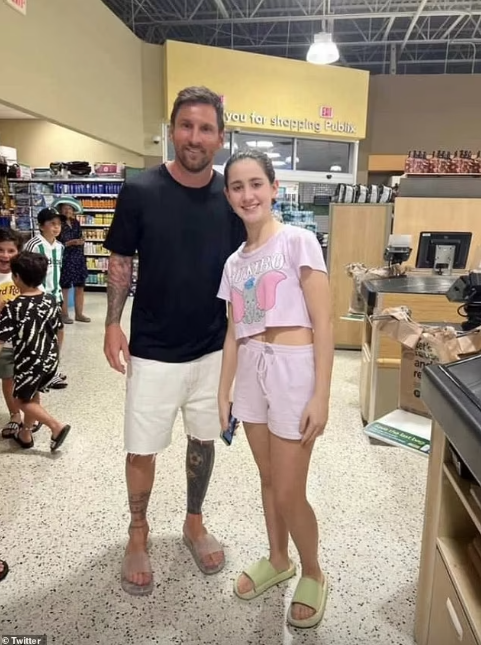 The seven-time Ballon d'Or winner even had time to pose for snaps with several admirers
Messi and a fan posing for a selfie in front of packs of US hard seltzer brand High Noon
Pictured last week, the Messi family have been in the Caribbean before they move to Miami
Messi is in Miami with his wife Antonela and their three children and is soon going to sign