Man who grows up between animals is able to distinguish differences between breeds, especially differences between dog breeds. It is universally known that humans favorite animals are cats and dogs. As such, they top the lists as the most requested gifts.
Are you thinking about holiday gifts? While you are thinking, I have the solution you need. Dogs.
Think of a child's happiness when he opens the package, and there is a beautiful cute puppy. These emotions are achieved when you decide to accept pets into your life.
If canine is your choice, this is where the real challenge begins. They come in different sizes and shapes.
I have classified dogs into four categories.
The first two categories relate to their body size which comes in two sizes. Large dogs for spacious houses and large spaces. Small dogs for apartments or smaller living environments.
While the other category is related to the content of their hair. Dog hair, such as Husky wool, is fur that changes (falls) according to the seasons. It can also cause allergies. We also have hairy dogs who do not shed. They are also preferred by people who have problems with allergies.
On the other hand it has happened to all of us to confuse dog breeds. This is because some breeds are similar to each other. This is what we are dealing with in this article. The following photos will introduce you to similar breeds in appearance but which are basically different.
Which of these breeds have you confused with each other before? Share your experience with us in the comments below.
#1 Alaskan Malamute vs Husky
#2 Cane Corso vs Boxer
#3 Beagle vs American Foxhound
#4 Golden Retriever vs Labrador Retriever
#5 Vizsla vs Rhodesian Ridgeback
#6 Lhasa Apso vs Shih Tzu
#7 Saint Bernard & Moscow Watchdog
#8 Collie & Scottish Shepherd Sheltie
#9 Akita Inu & Shiba Inu
#10 Puli & Komondor
#11 Whippet & Italian Greyhound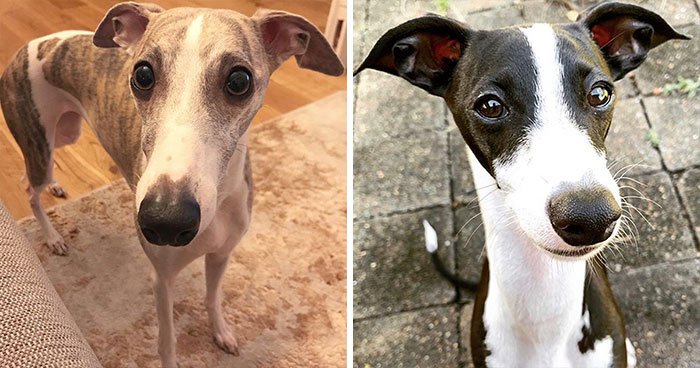 #12 French Bulldog & Boston Terrier
#13 Belgian Malinois & German Shepherd Dog
#14 Chihuahua & Russian Toy Terrier
#15 Bernese Mountain Dog & Greater Swiss Mountain Dog