Dogs who decided to play in freshly cut grass like to have fun no matter their age. Age does not matter for them, because they will always find the opportunity to dive into dirt. The options are numerous starting from the park, the garden of the house, the toilet or any other possible corner. These magical creatures will follow you everywhere in the house, thus finding new ways of entertainment.
If you are a dog owner you should know that they are naive animals. For example, who knows, you will probably be reaping the grass today, a long-awaited activity by your dog. The fact that the dog plays with the grass as if it were a specific fun toy makes these animals naive.
The Marilyn Monroe of grass stains.
As soon as you cut the grass your dog will start to roll in it turning into Hulk. People love to share their dog's shenanigans so a lot of them decided to bless the internet with their green dogs. Here are 10 photos of dogs who decided to play in freshly cut grass. If you have not seen a green dog before, this is your moment. Their relationship goes to the stage where the dog has become one with the grass. Funny babies.
#1 I don't understand what are you talking about
#2 Look at that face so happy and proud
#3 Me and grass are the same
#4 Hello people. How do you like me in this green color
#5 You are right, I did something wrong. But I had so much fun
#6 I don't even care about your opinion
#7 Let's do the second round
#8 Grass+Water = Dirt and Fun
#9 How ya'll doing I love fresh cut grass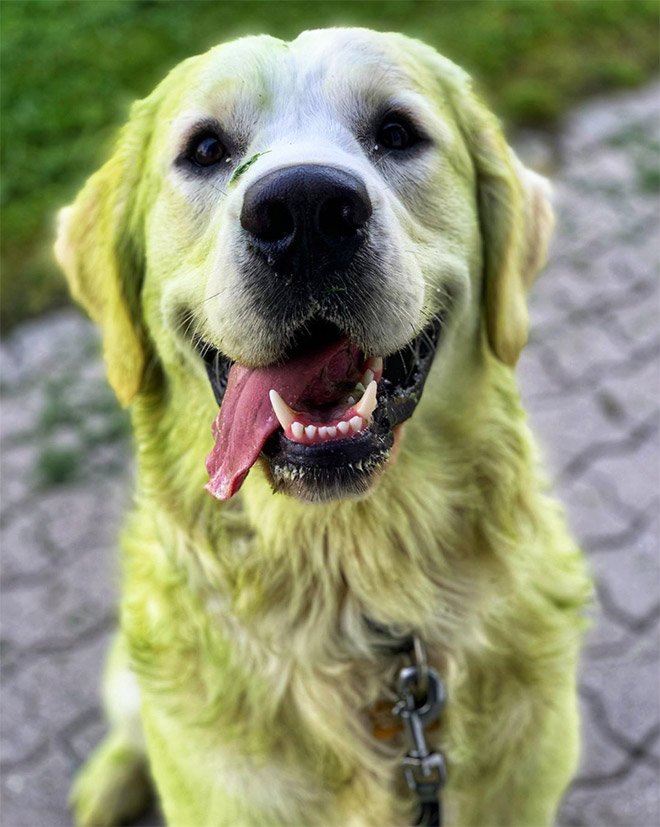 #10 I must stay clean but i hates it LOL